Best Cheese for Pasta: All You Need to Know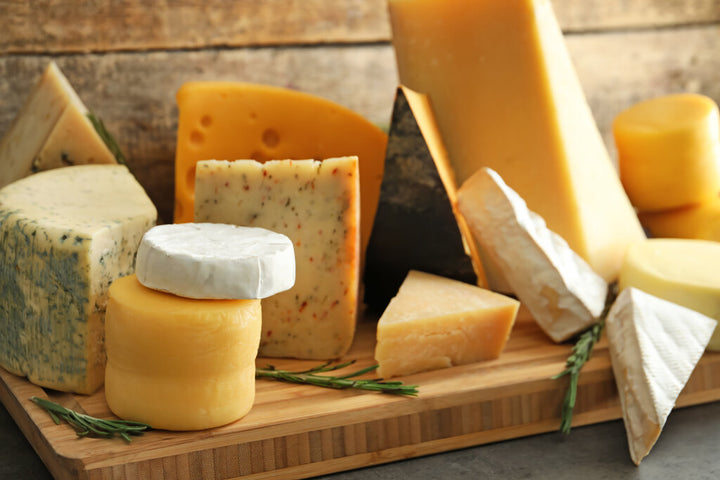 No pasta is ever complete without a glorious sprinkling of cheese to top off the dish, but what's the best cheese for pasta? 
With literally hundreds of different pasta dishes to cook up (from lasagna to carbonara), this isn't an easy question to answer! Some types of pasta are best in a creamy, cheese pasta sauce, while others need just a dash of grated Romano to finish off the flavors. 
With so much choice, we decided to take a look at which pasta and cheese combos are the most delicious. From ricotta to Parmigiano-Reggiano, here are our top choices! 
Which cheese is best? 
Everyone has their own personal tastes and preferences when it comes to putting cheese on pasta. Some of us just enjoy smothering penne with mounds of grated cheddar, while the more refined diner will prepare homemade ravioli with a pasta maker and the finest ricotta. 
But as any Italian chef will kindly inform you, there's also a precedent when it comes to pairing cheese with pasta. And for most chefs, cheddar just isn't going to cut it! Here are the best cheeses to pair with your next pasta recipe!
#1. Parmesan (Parmigiano-Reggiano) 
Parmesan is the classic choice, and there's never a recipe that won't be complemented by this versatile cheese!
Traditional parmesan from Italy can only be called Parmigiano-Reggiano if it's from designated areas of the country, but the recipe has been exported across the world. Parmesan is a hard cheese, and it's perfect for grating and melting.
Tomato-based pasta dishes such as spaghetti bolognese become much more authentic when topped with parmesan, while this type of cheese is called for in a traditional alfredo recipe, as well as carbonara, lasagna, and a four-cheese sauce recipe. 
#2. Ricotta 
Ricotta is a type of whey cheese that's wonderfully creamy and thick. Prepared from any leftover whey, be it from cow or goat's milk, ricotta is best used to thicken up sauces.
You'll find ricotta goes well in a lasagna or a pasta bake. It's also delicious when served with spinach and other green vegetables to give your pasta a creamy finish. Ricotta is also one of the 'four cheese' options you get on pizzas!
#3. Ricotta Salata 
Ricotta Salata is very similar to standard ricotta, but it's not nearly as well known. Ricotta Salata is much more crumbly and much saltier than its cousin. It's aged for a lot longer, and there's a much stronger flavor to ricotta Salata. 
As it's particularly crumbly, it goes well when sprinkled on top of short pasta such as rigatoni or penne, accompanied with tomato or pesto sauces. 
#4. Feta 
Feta is Greek in origin, and while it's more commonly associated with olives and summer salads, it also makes a great addition to many a pasta recipe. 
Feta is a soft cheese (prepared from goat's milk or a mixture of goat and sheep milk) that's cut into blocks and usually served up in small cubes. It's not one for melting, but one to savor the taste of. Add feta cubes to light pasta sauces such as tomato and basil, pesto, or lemon and spinach for a fresh, healthy, and delicious feta pasta recipe. 
#5. Mozzarella 
Mozzarella is just about as Italian as you can get, so there's no wonder it's a staple of many a traditional cheese pasta dish!
Italian mozzarella is prepared using buffalo milk, and it's rolled into a small ball that's kept super fresh by storage in brine. Mozzarella melts remarkably well, and so it's melted into pasta sauces or used to top off oven-baked dishes. 
Mozzarella is another quarter of the standard four-cheese sauce, while melted mozzarella is worked into many a pasta bake that requires a creamy base, be it a multi-layered lasagna or a homemade tuna pasta bake recipe. 
#6. Pecorino Romano
Prepared from sheep's milk, pecorino romano is a type of hard Italian cheese that is best suited for grating, then sprinkling over pasta dishes. 
It has a strong and overly salty taste, so you need strong taste buds to really enjoy it. This is one of Italy's oldest varieties of cheese, with a legacy dating far back to the Roman era. 
It's a prime component of the simple, three-ingredient cheese pasta dish Cacio e Pepe (cheese and pepper) but also goes well as a strong garnish for dishes such as a ragu or bolognese.
#7. Gorgonzola 
Not everyone is a fan of blue cheese, but if you have a taste for strong flavors, then you can't beat good gorgonzola!
Gorgonzola is a soft blue cheese, but the creaminess doesn't hide its strength. This isn't a cheese that's for grating or crumbling, but works best when cooking a strong, rich sauce.
It's a staple of any classic four-cheese sauce, or it adds depth to a lasagna or pasta bake sauce. 
#8. Cheddar
It's definitely not Italian, but cheddar cheese is one of the most popular varieties of cheese you can pick up in supermarkets across the US. Originally from England, cheddar cheese is cut into large blocks that have a distinctly mature taste to them when aged. 
Okay, it's not traditional, but it's very likely you have a block of cheddar in the fridge that you can grate over your pasta dish. It goes particularly well with comfort food, such as a rich four-cheese sauce pasta bake or spaghetti and meatballs. 
So, which is best for my pasta? 
Ultimately, the cheesy topping comes down to your personal preferences as much as the dish that you're making. While Italian chefs might scream in disbelief if they know you're grating cheddar cheese (or worse, Colby and Jack!) on your spaghetti bolognese, we aren't going to tell anyone!
In our opinion, any pasta with cheese in it is good pasta, so get grating! Why not bookmark this guide, so you can pair up your favorite combos when you're trying out your next pasta recipe at home?

Make your own delicious pasta at home - this simple step-by-step guide will help you out:
Leave a comment
Comments will be approved before showing up.
---
Also in Tips