How to Clean Pasta Maker: Easy and Simple Tips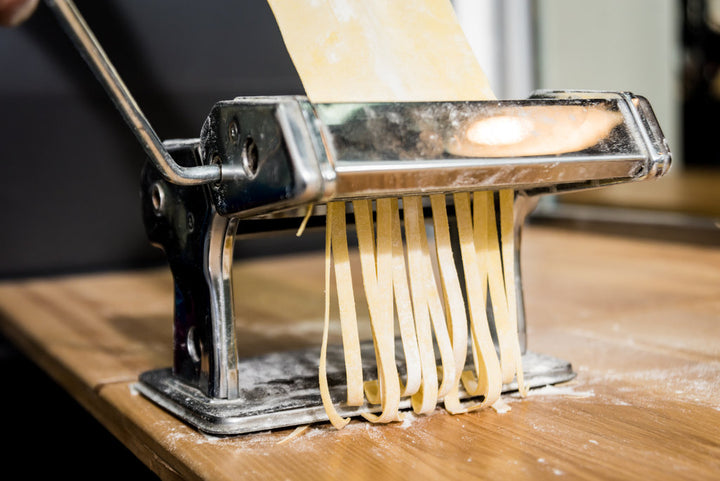 Fresh pasta is an incredibly old Italian tradition that went to the wayside over the last 100 years. Most parts of the world shifted towards the rise of convenience foods, including dried pasta. They were quick, easy to cook, and lasted virtually a lifetime on your shelf so it's no wonder you can find them in almost every American pantry today.
With the emergence of the 'foodie' movement in America and worldwide, people have started to find great value in the taste and quality of their food at unprecedented levels and we have seen a resurgence of the desire for foods that require a bit more preparation like a quality, fresh pasta.
A pasta maker is one small, inexpensive kitchen tool that gets you one step closer to living the dream - eating fresh-made pasta daily.
Ok, maybe not everyone shares the same fresh-pasta-every-day dreams like us, but we do think it's important to learn how to clean a pasta machine so that you can keep your tool in tip-top condition for the occasions that you do choose to make some fresh linguine or tortellini.
Can you wash a pasta maker?
There are 2 basic types of pasta makers: high-end electric pasta makers and metal pasta makers that you operate by using a hand crank.
Both types of machines should NEVER be washed in the sink.
Cleaning a manual pasta machine is not as simple as washing a dish - you do not want to submerge this tool in water or use much water around it generally.
Most pasta machines are made of metal and have small working parts that you cannot easily wash or rinse. These machines will rust if you get water in them, as it is almost impossible to remove all of the water afterward.
It is better to use scrap dough or clay to clean the rollers and disassemble the machine in order to clean the inner working parts.
Can you put a pasta machine in the dishwasher?
By the same token as what we said above, putting a pasta machine in the dishwasher is a sure recipe for disaster.
Read the instructions on your pasta maker carefully. You may be able to remove certain pieces from a machine and if they are stainless steel they will be dishwasher safe. This is the ONLY case that it is safe to put any part of your manual pasta maker in the dishwasher.
Steps to Clean your Pasta Maker
When it comes to cleaning pasta machine, it is important to always follow the manufacturers instructions for cleaning their respective machines as methods will differ depending on different materials and the way in which it has been built.
Supplies Needed
scrap dough, or white scrap clay
wooden skewer
screwdriver with a head that fits your screws, likely a Philips head
paper towels
Directions to Clean Pasta Maker
Remove any detachable parts from the pasta machine. If these can be put in the dishwasher, do so. If not, give them a gentle hand wash with everyday dish soap. Dry thoroughly with a cloth.
Takes your scrap dough or clay, and roll through the roller. You will want to do this several times so that the dough picks up the old remnants of pasta stuck in the pasta maker. Repeat rolling 4-5 times at the widest setting, then switch to thinner settings and repeat 4-5 times until you've reached the thinnest setting.
Use a brush or wooden rod to clean the rollers and cutters. This can be used to remove and dough residue still remaining between the rollers.
This will be the end of the road for cleaning pasta makers that don't come apart. Use your dry brush for any small parts you can't easily reach.
For pasta makers that can be disassembled to be fully cleaned, continue on below.
Directions to Disassemble and Clean Pasta Maker
Follow the manufacturer's directions to disassemble using a screwdriver.
Use a wooden skewer for hard to reach places. For little moving parts that are hard to reach internally, grab your wooden skewer, and gently scrape any debris you can see on the inside of the cutters.
Use a dry paper towel to remove debris from any larger surface/ easy to reach areas.
Reassemble as per the instructions of the manufacturer.
Extra Tips and Tricks
Store your pasta maker in a clean, dry area to avoid rusting. Consider keeping the original box for optimal storage. It keeps the pasta maker dry and makes it easy to drag in and out of the cupboard to use.
Always use your pasta maker on a flat surface to keep parts from warping and to avoid dropping the tool.
Use a clean, dry, cloth to clean the exterior of the maker after every use.
If you haven't used your pasta maker in a while, roll scrap dough through the first time around to move dust from the machine. Discard and continue!
Final Word
These few simple steps can keep your pasta maker relatively dust and debris free, to keep your food safe to consume and tasting its best.
Remember to avoid using water on any metal/moving parts and you will have your pasta machine for years to come.

If you are still a beginner when it comes to making pasta at home, check out our helpful guide on how to use a pasta maker at home. 
Leave a comment
Comments will be approved before showing up.
---
Also in Tips