8 Tips on Kitchen Space Saving to Maximize A Small Room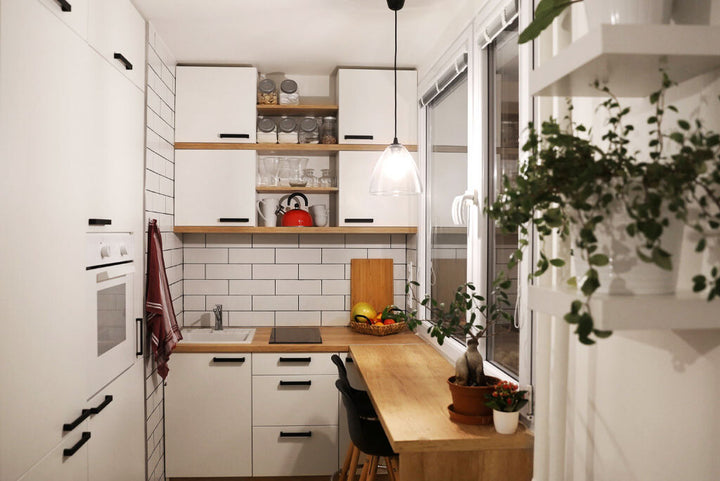 Don't let a small kitchen be your excuse—kick clutter to the curb and utilize every inch of your kitchen for full functionality and style. 
#1: Use open storage for double-duty
When you're short on kitchen space, using open storage shelves can help you turn your prettier dishware and utensils into decor when it's not in use. 
Put your cutest teacups on a dessert stand or lazy Susan, front and center on display. 
#2: Use windowsills to your advantage
Get your plants or vases off the counter and onto the windowsill for a stunning display in perfect, natural light. You'll free up some space to get as much usable space on your counters as possible. 
#3: Use hooks in place of art
Let utility double as an art piece, installing decorative hooks to hang your aprons, oven mitts, towels, or pots and pans. You'll free up some shelf space and liven up the room with a pretty focal point that looks anything but cluttered. 
#4: Don't just look inside your cabinet
Use your cabinets for storage, but don't stop there—store your rarely used items on top of your cabinets, stashed out of view until you next need them. 
Worried you won't be able to reach them? Invest in a small stepladder to help you reach high places. 
#5: Get a small recycling bin and a can crusher. 
Don't let space stop you from recycling by storing your large bin in your garage or outside, keeping a small bin in your kitchen for convenient disposal.
Invest in a can crusher and mount it on your wall to maximize your bin's space.
#6: Use shelves within your shelves.
Some shelves are too tall, leaving you with several inches of unused space and not enough storage for all your goods. 
Instead, invest in some expandable wire shelving you can stick in your cupboards to turn one shelf into two or three—whatever best suits your needs.
#7: Utilize the insides of your doors. 
Make use of all that dead space on the back of your kitchen cupboard and closet doors.
Hang small hooks on the back of your cupboard doors for potholders, scrubbers, or towels (be sure to carefully measure they'll still close properly). 
#8: Hang a magnetic knife rack.
Attach a magnetic strip to your wall or backsplash and hang your most-loved knives for easy access, freeing up precious drawer space that you can use to store your less beautiful utensils. 
Try these tips to maximize a small space and watch your kitchen transform. But, be patient—it'll likely take a few adjustments to arrange the minimalist kitchen of your dreams!
Leave a comment
Comments will be approved before showing up.
---
Also in Blog