3 Spooky Halloween Party Recipes for Your Cast Iron Skillet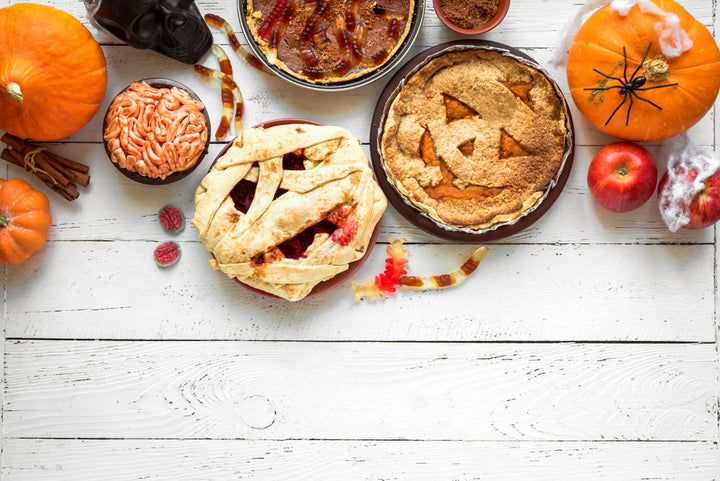 Hosting a Halloween shindig and in need of some spooky recipe ideas? From eerie buffalo chicken dip to mega-monster cookies, we've got your treats covered, minus all the tricks!
Summer is long over, and though we're sad to see it go, it means our favorite holiday is upon us - Halloween! 
Whether you make it out trick-or-treating, throw a spooky party, or spend the night comfy on your couch watching scary movies and handing out candy, we have some fantastic treats that will get you through the night with a full belly. 
Recipe #1: Spooky Buffalo Chicken Dip
Serves: 12
Ingredients
2 c. chicken breast, cooked and shredded

8 oz cream cheese, softened

½ c. Monterey jack cheese

⅔ c. cheddar cheese

½ c. buffalo sauce (we love Franks' version)

½ c. ranch dressing

2 tub packages of pizza dough

4 oz cheddar cheese, cubed

2 Tbsp butter, melted
Directions
Preheat your oven to 400

°

F.

Combine your shredded chicken, cream cheese, cheddar, Monterey jack, buffalo sauce, and ranch in a large mixing bowl. Set aside.

Lightly flour a large cutting board or sanitized counter. Roll out one tube of pizza dough, cutting out two triangles for eyes and a mouth-shaped piece. 

Place the pizza dough on a greased baking sheet and bake for 12 mins or until the pieces turn golden brown. Set aside.

Cut the remaining rolled dough into squares, placing a cube of cheese on each, then rolling into balls around the cheese. 

Repeat with the other tube of dough. Place dough balls around the outside of a greased cast-iron skillet. 

Fill the middle of the skillet with your buffalo chicken mixture. 

Place your filled skillet in the oven and bake for 35 mins. 

Carefully remove the skillet from the oven, and brush the dough with melted butter. Arrange the face pieces on the dip. Serve and enjoy!
Recipe #2: Deep Dish Mummy Pie
Serves: 8 - 12
Ingredients
Dough
3 ¾ c. all-purpose flour, plus more to roll

1 Tbsp kosher salt + ¼ tsp

2 tsp. white sugar

1 ½ c. cold butter, cut into cubes

½ c. ice-cold water
Pie Filling
3 lb baking apples, approx. 6 (We like Granny Smith!)

8 oz raspberries, frozen

⅓ c. white sugar

2 tsp ground cinnamon

⅓ c. cornstarch

Coarse salt

2 Tbsp unsalted butter, cut into pieces

1 egg, lightly beaten

Turbinado sugar, to sprinkle
Directions
In a high-powered food processor, combine flour, salt, and sugar. Pulse to combine.

Add the butter, then pulse until the mixture becomes a coarse meal texture. Add ½ c. water and pulse until combined, adding more water by the Tbsp until the dough holds together when gently squeezed. Don't overmix the dough. 

Divide the dough into two balls, one ⅔, and one ⅓ in size. Flatten each ball into a disc, wrap it in plastic, and place it in the fridge for 45 min or overnight. 

Peel and core the baking apples, reserving ½ of one apple, quartering the rest. Cut the apple quarters into four slices, then transfer them to a large-sized mixing bowl. Toss with raspberries, white sugar, cornstarch, cinnamon, and a big pinch of salt. Set aside. 

Lightly flour a large cutting board, then roll the larger dough ball out into a circle ⅛-inch thick. Transfer the dough to a 10-inch cast-iron skillet. Trim the dough edges, leaving one inch to overhang the perimeter. 

Scoop the filling into the skillet on top of the pie shell. Cut the leftover ½ apple into a triangle to make a nose, and place it in the middle of the pie, dotting with butter on top. Fold the 1-inch overhang on top of the pie. 

Roll out the remaining dough ball into square ⅛-inch thick and 14 inches across. Cut the dough into 1 ½-inch wide strips with a sharp knife. Brush the folded crust with egg wash, then lay the strips over the top of the pie, making it look like mummy wrapping. Tuck the edges into the skillet, then refrigerate the pie for a minimum of 45 mins. 

Remove the pie from the fridge and preheat the oven to 450°F. Brush the pie crust with egg waste, sprinkling with turbinado sugar. 

Place your skillet on a parchment-lined baking sheet place it in the preheated oven. Lower the temperature to 375°F, then bake ~ 90 mins until the top is dark golden brown and the filling is bubbling. Rotate the pie halfway through. 

Remove your skillet from the oven and transfer to a wire rack to cool. 

Serve and enjoy!
Recipe #3: Monster Skillet Cookie
Serves: 8 - 12
Ingredients
½ c. unsalted butter

1 c. light brown sugar, firmly packed

1 large egg

1 tsp pure vanilla extract

1 c. all-purpose flour

½ tsp baking powder

½ tsp salt

¾ c. old-fashioned rolled oats

2 c. chopped fun-sized M&Ms, Snickers, Mars, or your other favorite candy bars!
Directions
Place the unsalted butter in a 10-inch cast-iron skillet over medium heat, stirring until melted. Add in the brown sugar and stir until dissolved. 

Remove your cast-iron skillet from the heat and allow it to cook for ~ 10 mins. 

Preheat your oven to 350°F. Add egg and vanilla extract to butter in the skillet, stirring until combined. 

Add flour, salt, and baking powder, mixing until combined. Stir in the oats, then the chopped candy and chocolates.

Spread your cookie dough evenly in the skillet. 

Once heated, place the skillet in the oven, baking 20 - 25 mins or until golden brown. Don't overbake. 

Serve warm, or wait until cool and serve at room temperature.
Final Notes: One-Skillet Halloween Treats Made Easy 
We hope you enjoy baking these spooky treats and serving them up for all your favorite pals.
With one cast-iron skillet, you'll have your Halloween party hopping and avoid the scariest part of any Halloween party - clean-up!
Leave a comment
Comments will be approved before showing up.
---
Also in Recipes