16 Sides for Tacos to Spice Up Every Taco Night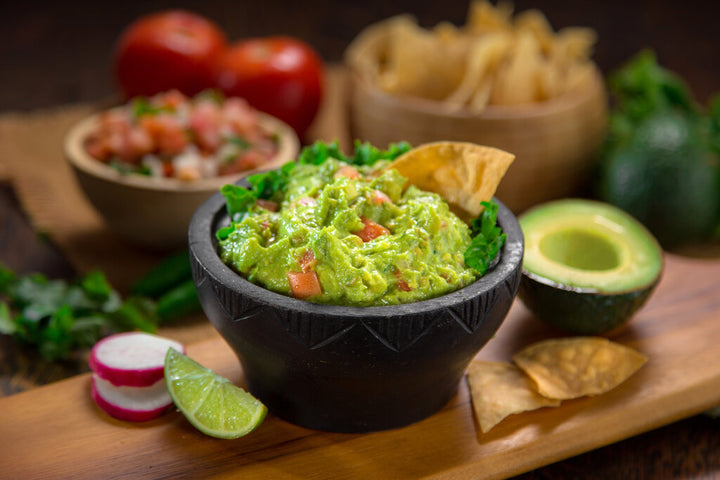 If you're wondering what to serve with tacos, look no further! We've rounded up our favorite side dishes for tacos, from the healthiest to the most indulgent - they'll all elevate any taco night!
What to eat with tacos
#1: Homemade tortilla chips
Of course, we always suggest starting with some salty tortilla chips on any taco night. Instead of using store-bought, why not try to make your own homemade tortilla chips? 
They're fresh, taste delicious, and are very simple to make - cut a few good-quality corn tortillas into triangles and deep-fry them on the stovetop in a bit of oil. Don't forget the essential final step, a quick sprinkle of salt!
#2: Simple guacamole
No taco night is complete without guacamole - pair it with the homemade tortilla chips above for two exceptionally good sides for tacos. 
Some people subscribe to the school of thought that guacamole needs to be pure, containing just garlic, mashed avocado, lime, and salt. Traditional guacamole is delicious, but we also think it's pretty great with a few extra ingredients like chopped tomatoes, fresh cilantro, and green onions. Whichever way you mix it, you're going to love it!
#3: Sweet blueberry salsa
What goes good with tacos? Salsa!
Tacos and salsa go together like peanut butter and jelly. Switch up the classic salsa pairing with your tacos and make a sweet and savory blueberry salsa.
Slice up some sweet bell peppers, onions, and jalapenos, mix them with fresh blueberries, and toss on some seasonings and lime juice - voila, an easy, tableside fresh fruit salsa! You can also try fresh pineapple or mango instead. 
#4: Refried bean dip
Bean dip makes one of the best sides to go with tacos - you can't go wrong with black beans mixed with cream cheese. Melted Monterey Jack and cheddar can make your bean dip extra decadent! 
If you're for healthy sides for tacos, try a cheeseless bean dip instead, mixed with fresh lime juice, garlic, extra-virgin olive oil, and fresh cilantro. 
#5: Tangy cabbage slaw
Sometimes tacos can get a little heavy between the corn tortillas, rice, chips, and spicy beef - lighten it up with a fresh cabbage slaw as part of your taco dinner sides. 
Shred some red or green cabbage, chop some fresh cilantro and jalapeno, and toss the mixture in a simple creamy dressing made with fresh-squeezed lime juice and mayonnaise. 
This slaw pairs incredibly well with some fried or baked fish tacos!
#6: Shrimp ceviche
Wondering what to serve with tacos? Ceviche is a deliciously fresh way to safely enjoy raw seafood mixed with fresh cucumber, onions, cilantro, and avocado. 
Though you usually shouldn't eat raw shrimp, shrimp ceviche marinades in fresh lime juice, allowing the acids to "cook" the fish, making it safe to consume. 
Ceviche is not only safe, but it's also delicious!
#7: Frijoles de la olla
This simple, classic Mexican dish simply means "beans in the pot," one of the best side dishes for tacos that doesn't require much prep work. 
Toss your beans in a Crock-Pot with some water, garlic, and fresh herbs, then set to simmer for a minimum of 2 hours. Some recipes call for added lard, and while it's delicious, you can leave it out if you prefer!
#8: Grilled Mexican "street" corn
We never turn down sweet in-season corn on the cob, especially when it's grilled and turned into a homemade take on one of the most popular Mexican corn you can find on every street corner. 
Homemade corn is one of the best Mexican sides for tacos that you can flame-kiss on the BBQ along with your favorite taco proteins. Once grilled, slather these cobs with Mexican crema, fresh crumbled cotija cheese, garlic, chipotle, and fresh lime juice.  
Serve with a few extra napkins; this Mexican street corn gets pretty messy!
#9: Mexican chicken and bean soup
A rich, smooth Mexican soup is perfect for serving with tacos, especially on colder nights. You'll want plenty of spices, beans, and corn to sweeten and flavor this spicy chicken and tomato-based soup. 
Better yet, top your Mexican soup with some homemade crispy tortilla strips for a little extra crunch!
#10: "Chipotle" rice
If you've ever eaten at the popular fast-food chain Chipotle, you'll know why you should try to make an easy copycat recipe instead. 
Simply steam a pot of rice as usual on the stovetop or in a rice cooker, then mix in some fresh lime juice, chopped cilantro, salt, and a little drizzle of olive oil. 
#11: Mexican-fried cauliflower rice
Want rice without the extra carb load? Try Mexican-fried rice made with riced cauliflower instead. In my opinion, this is one of the best sides for tacos!
Toss some cauliflower florets into a food processor and process until they reach the texture of rice. Then, add some Mexican chile spices, chopped peppers, onion, garlic, and cilantro to a pan with the cauliflower rice and fry the whole thing up with a bit of cooking oil to make a side that's both tasty and healthy!
#12: Fresh tex-mex green salad
Craving fresh greens with your heavy tacos? Make yourself a big green salad with romaine and top with a bit of Mexican protein, pinto beans! Add tomatoes, cheese, and corn, and finish with a drizzle of creamy Catalina dressing. 
This salad makes the perfect base for anyone trying to avoid eating taco tortillas - simply toss your taco toppings into a big bowl with this salad instead. 
#13: Lime quinoa salad
Want a little extra protein in your side dish? Try this lime quinoa salad with black beans. Boil a pot of protein-packed quinoa, then stir in your drained beans, chopped tomatoes, cilantro, and fresh lime juice. 
A quinoa salad is delicious, served either warm or chilled in the refrigerator!
#14: Seven-layer taco dip
This classic, addictive dip has us eating way more than our fair share. Build your own dip at home by alternating layers of refried beans, sour cream, salsa, grated cheese, green onions, guacamole, and diced veggies. 
Scoop this dip with some homemade tortilla chips, or add it straight into your taco. 
#15: Bean nachos
While you cook your taco beef on the stovetop, toss a big pan of nachos under the broiler for a delicious pre-taco appetizer or side dish. 
Simply spread out your corn chips, toss on some black beans, tomatoes, and a big pile of grated cheese, then heat until melted to perfection. Once your nachos cook, pull them out of the oven and add some fresh pico de gallo, sour cream, and diced lettuce for some crunch. 
#16: Spanish rice
If you're looking for some healthy Mexican side dishes, try this Spanish fried rice that's basically a rice pilaf with Southwestern flavoring and spices. First, brown the rice, then steam it in chicken broth with plenty of stewed tomatoes and garlic. 
Spanish rice tastes delicious wrapped in a corn tortilla with taco 'fixins' or served on the side. 
Final notes: Our favorite Mexican side dishes
It's hard to go that wrong with any of these taco night sides, especially since many of them are so simple to make and serve with tacos.
If you're looking to keep your meal healthy, try our green salad or Mexican soup. Go all out with some homemade tortilla chips with 7-layer dip or an out-of-this-world plate of nachos. 

To be fully prepared for your next taco night, check out the list of our favorite taco toppings!
Whichever taco side you choose, make sure you keep your taco holder handy!
Leave a comment
Comments will be approved before showing up.
---
Also in Tips