7 Deliciously Healthy One-Pot Meals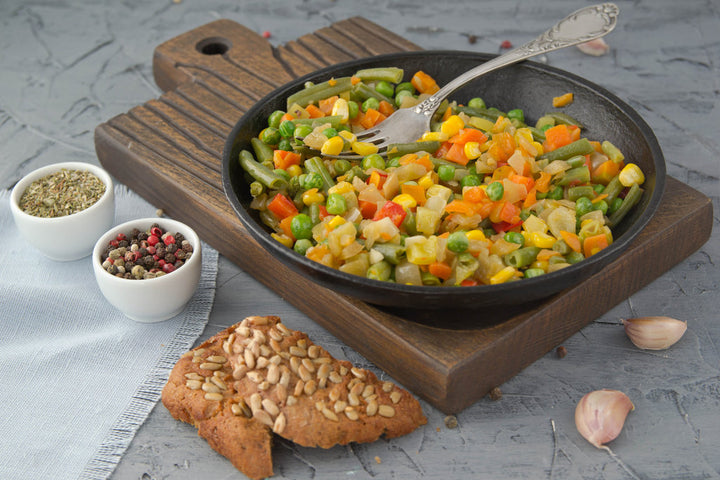 Striking a balance between easy prep and a nutritious, healthy meal that's going to keep you well-fed can be a real challenge given the busy, modern lives that we all lead!
Learn how to cook a few healthy one-pot meals, though, and you'll cut down cooking time while maximizing the goodness that you're feeding to yourself and to the rest of your family.
Our healthy one-pot meals are easy to cook and packed full of nutrients, so why not give these one-pot recipes a try?
How healthy are one-pot meals?
Fast one-dish meals aren't always the meals that you expect to be healthy (we can thank the fast food industry for that!), but there are some fantastic one-pot meals that are super easy to prepare and which are wonderfully nutritious too.
The recipes we've chosen for this article use either a cast iron double Dutch oven, or a cast iron wok or skillet. This ensures that everything can be cooked in the same pot, meaning minimal preparation time and even less washing up at the end of the meal!
In a wok or skillet, everything is cooked quickly, using the stir fry technique. Stir-frying is a surprisingly healthy way of cooking food. You can cook vegetables and small pieces of meat quickly, at a high temperature. This not only preserves much of the flavor but also preserves the nutrients in the ingredients.
Stir-frying only needs a dash of oil, too, meaning you'll keep all those pesky trans fats away from your dinner.
One-pot roasts and healthy Dutch oven recipes require much more preparation time than a stir fry, but once everything is ready, you just throw it all in the pot and let dinner slow cook while you watch the television!
One-pot roasts hold an impressive amount of nutrients (not just fats and calories!), including lots of protein. Roasting vegetables is a wonderful way to keep in the flavor and the nutrients; just don't overdo it on the oil.
Healthy one-pot meal recipes
#1 Delicious Dutch oven chicken
Make the most of your Dutch oven by roasting a delicious, mouth-watering whole chicken with all of the trimmings. Roast chicken is great for anyone that's looking to add in a sizeable quantity of protein to their diet, while the vegetables you're roasting alongside the meat will give you plenty of healthy nutrients too.
Be sparing on the oil, of course, and substitute the roast potatoes for roast sweet potatoes, more carrots, or other vegetables, if you're looking to cut down on carbs and calories (for an even healthier one-pot dinner).
The prep time is surprisingly quick too, as all you need to do is cut up your veggies, layer them in the Dutch oven, then bury your whole chicken inside. Thow the pot into the oven for just under an hour, and enjoy a delectable roast chicken dinner!
Why not try our delicious Dutch oven chicken for a healthy roast?
#2 Delectable Dutch oven pot roast
Chicken pot roasts are absolutely delicious, but so are beef, lamb, and pork pot roasts too!
With Dutch oven, you can roast up a storm of delectable food, choosing your favorite piece of meat and your favorite vegetables. The concept is the same, and you'll be slow cooking your beef chuck or your leg of lamb to perfection, while you watch the television or get other important tasks completed!
For the healthiest one-pot roast, don't be shy with the veggies but do be sparing with the oil. For the best roast, let everything slow cook, so all the juices and nutrients are kept inside the Dutch oven, for added flavor and taste.
Here's our delectable Dutch oven pot roast recipe!
#3 One-pot Mexican casserole
Healthy eating really doesn't need to be boring, especially with our spicy one-pot Mexican casserole recipe. Add some flavor and the taste of Mexico to your cooking with this delicious recipe.
Take ground beef (or a ground beef substitute, such as Quorn, if you're veggie or want to be really healthy), and fry it up with onions, bell peppers, garlic, black beans, and tomatoes in a cast iron skillet or a cast iron wok. Add in some pre-cooked rice, then sprinkle everything with chili powder for that fiery flavor.
You simply let this Mexican inspired casserole simmer for around 30 minutes in the pan before serving it up with sour cream, guacamole, and some tortilla chips. It's simple, it's healthy, and it's tasty!
#4 Tasty tofu tacos
Mexican recipes are surprisingly healthy, especially if you're using the right ingredients!
One of our favorite healthy one-pot meals will always be our tasty tofu tacos. These outrageously flavorful tacos are low in calories and high in nutrients, while the chili powder and Mexican spices give them that authentic taste!
Tofu is high in protein, and it's one of the best and healthiest meat substitutes you could be cooking with. With the right prep and the right accompaniments, you'll barely be able to notice that you're not even cooking with meat. You can cook all the ingredients up, quickly, in a cast iron skillet, then simply wrap up your taco filling in corn tortillas and then layer on the spicy sauce for that extra fiery kick!
#5 Healthy vegetable stir fry
Stir-fries are one of the best healthy main dishes you can cook up for dinner, and they are so simple to make you could prepare them in your sleep!
You'll need plenty of vegetables, a large cast iron wok, and a few spices for taste and flavor. Slice up your veggies, heat up a drizzle of oil in the bottom of your wok, then flash fry the ingredients for just a few minutes.
You can add soy sauce, or spicy chili sauce, and then serve with rice or noodles.
You can use any vegetables you might have lying around the pantry or in the fridge. We prefer our stir-fries to have a crunchy edge to them, so we'd recommend onions, bell peppers, beansprouts, snap pea pods, or green beans. You can use mushrooms, zucchini, and many more vegetables too though!
If you're trying to be particularly healthy, you could even just serve this stir fry with a salad, to skip out on those carbs and extra calories.
Stir-frying keeps in both the flavor of the vegetables and those all-important nutrients, and you can whip up a tasty, healthy meal in less than 20 minutes!
#6 Succulent shrimp stir fry
You can mix up the vegetable stir fry recipe by adding in a few succulent shrimp, for added taste and added protein. Again, you'll need a cast iron wok, a drizzle of oil, and some sliced vegetables. Heat up the pan, then flash fry your shrimp for one minute on either side. Add in your vegetables, and then cover in soy sauce or chili sauce.
You can use whichever vegetables you have in the cupboard, but we love cooking up this shrimp story fry with onion, garlic, crunchy bell peppers, zucchini, or bean sprouts. You can prepare and cook this stir fry in less than 20 minutes, making this a fantastic, healthy one-pot meal that's perfect for those busy weekdays, when all you want to do is relax after a hard day at work!
#7 Vegetable casserole
We love a delicious vegetable casserole, and not just for the health benefits, but because this practical recipe uses up all of your spare ingredients, in the fridge or freezer.
Simply use up all the veggies you have lying around or take a big bag of frozen mixed veg out of the freezer. Mix everything together in a large dish that's suitable for cooking in the oven, then mix up a tasty sauce using mayonnaise and a few spices (use light mayo to be extra healthy).
Grate over a light layer of cheddar cheese for taste, and crumble on a few Ritz crackers to the vegetable casserole a crunchy, tasty topping. Once it's in the oven, just sit back and relax and wait for this healthy one-pot meal to bake.
One-pot meal sum up!
Our deliciously healthy one-pot meals are a fantastic way to make dinner time healthy. Low in calories and high in nutrients, these one-pot dinner recipes involve minimal prep but will keep the entire family fed! Why not bookmark our healthy one-pot dinners for your next healthy cooking week?
Leave a comment
Comments will be approved before showing up.
---
Also in Recipes