11 Wok Recipes to Cook During Quarantine!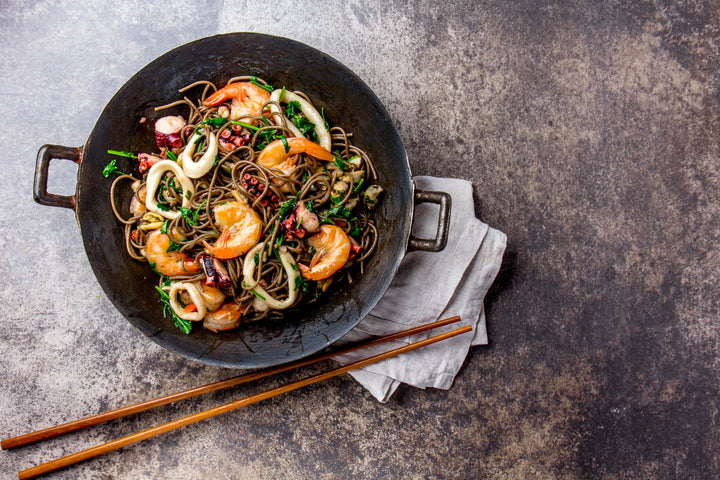 We know that these quarantines are making it harder for everyone to order their favorite wok, so we put together this master list of recipes so you can bring wok to your kitchen!
Woks became a staple in Chinese households for one main reason - traditionally, the stoves used in China were designed chimney-style, with a narrow pipe at the top that widens down to a large fire underneath. Woks were designed for this situation, with a narrow base and high, widened sides.
Although most modern households have a stovetop these days, the popularity of wok cooking lives on. The small base of the wok can get burning hot in record time, which makes them a fantastic way to saute and stir-fry your way to a quick and easy dinner.
The high sides of the cast iron wok allow you to toss your ingredients around easily without the risk of losing them over the edges of the pan. These high edges also help to prevent hot oil from splattering up at you.
There is really nothing that can rival a good stir-fry or pad Thai, so satisfy those cravings with one of these delicious recipes!
Vegetarian Wok Recipes
1. Tofu Stir-Fry
If you feel uncomfortable cooking tofu or haven't enjoyed it in the past, it's likely because you hadn't prepared it right. Tofu on its own is fairly tasteless and when cooked correctly it can add a beautiful texture to a dish and blend with the other flavors. Try out cooking tofu in this recipe with asparagus, carrot, and onion in a garlic ginger stir-fry sauce.
Check out this Tofu Stir-Fry recipe to learn all the tips and tricks to this mouth-watering dish!
2. Vegetable Pad Thai
This spicy pad Thai recipe uses sambal oelek, an Indian chili paste made with crushed raw red chilies, vinegar, and salt. The spice pairs well with rice noodles, egg, peanuts, and fresh chopped herbs - we recommend cilantro for a citrusy kick.
This Vegetable Pad Thai recipe will make you look at Vegetarian food in a whole new light!
3. Vegetable Stir-Fry
A stir-fry recipe you're sure to enjoy is this classic vegetable version with ginger, broccoli, corn, and a bit of spicy sriracha. You can pair it with rice, or switch it up and serve with some traditional pasta or rice noodles.
Be sure to make plenty of this Vegetable Stir-Fry when you decide to try it! It is sure to be a crowd-pleaser!
4. Vegan Pad Thai
Pad Thai is very non-vegan friendly by nature - it contains fish sauce, egg, and dried shrimp traditionally. We've created a vegan version by swapping fish sauce for soy sauce, omitting the egg, and using tofu in place of animal-based protein. Vegan cooking can be more time consuming, but this pad Thai is a quick meal that can be ready in less than 30 minutes. It doesn't get much better than that!
If you are looking to give this Thai staple a go, be sure to check out our Vegan Pad Thai recipe.
Beef/Pork Wok Recipes
5. Beef Pad Thai
Beef pad Thai is one of our favorite Asian recipes with a ton of flavor and a monster source of protein. It's made with sliced top sirloin steak, broccoli, carrots, and crunchy bean sprouts in a traditional pad Thai sauce.
6. Pork Stir-Fry
Seared pork tenderloin is the perfect match for this garlic-ginger teriyaki stir-fry with a ton of veggies and sesame seeds. You can amp up the heat by adding chopped fresh chilies, habaneros, or jalapeños.
This Pork Stir-Fry recipe will take your at-home wok experience to the next level!
Shrimp Wok Recipes
7. Shrimp Stir-Fry
You can use frozen or fresh shrimp for this stir-fry, which pairs well with the sweet flavor of bell peppers and snow peas. Try serving over brown rice for some bonus fiber and nutty crunch.
A good Shrimp Stir-Fry recipe is a must-have if you are planning on cooking wok!
8. Shrimp Linguine
Woks aren't just for Asian flavored dishes. This Italian-style shrimp linguine recipe uses a creamy, butter-based white wine sauce with cherry tomatoes, baby kale, and gets topped with some sharp, grated parmesan.
No matter how you decide to customize it Shrimp Linguine is sure to fit even the pickiest of eaters!
9. Shrimp Pad Thai
Make this pad Thai tonight using peeled shrimp with fresh lime, fish sauce, and a ton of antioxidant-rich garlic. Top off the dish with some crunchy white bean sprouts for added texture.
If you really want some authentic tasting wok, this Shrimp Pad Thai recipe is a great place to start!
Chicken Wok Recipes
10. Chicken Stir-Fry
Use some chicken fillets for a high-protein, low-fat option in this chicken stir-fry. You can cut the carbs further by eating on its own, with a bunch of veggies instead of rice or noodles. Chop all of your ingredients up beforehand to make the cooking process a breeze.
11. Chicken Pad Thai
Glass noodles, boneless skinless chicken breast, green onions, and cilantro. This is the epitome of classic pad Thai. The garlic peanut sauce we've paired with this dish has a delicious, savory quality, with some crushed chilies for a touch of spice.
Wok Recipe Takeaways
Don't let all of this time stuck at home make you miss out on your favorite cuisine. Start cooking up these recipes and we are sure that you will be impressing your family with you new-found skills in no time at all.
Leave a comment
Comments will be approved before showing up.
---
Also in Recipes