What Can You Cook on a Griddle: Getting the Most Out of Your Kitchen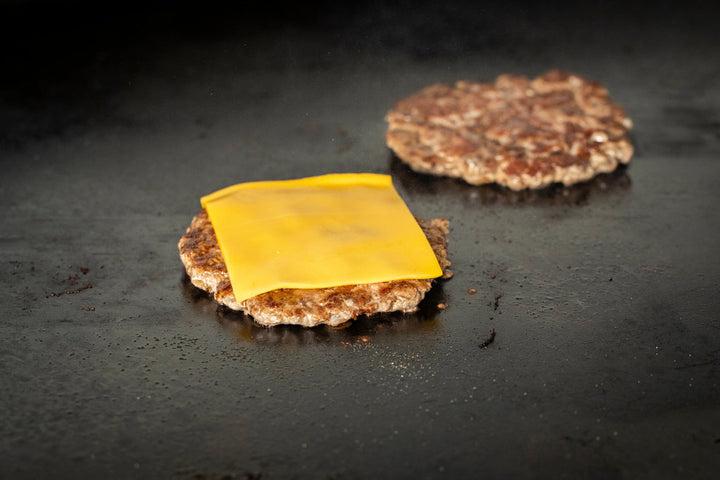 Griddles are a fantastic addition to any kitchen. These flat cooking surfaces are ideal for searing meats and scorching vegetables, and they are a surprisingly healthy alternative to the traditional frying pan or skillet.
We asked our chefs for inspiration, and they answered with their favorite recipes and griddle-friendly dishes. From burgers, sausages, and seafood, to pancakes and cheese sandwiches. Here are some great ideas for cooking on a cast iron griddle pan so you won't ever have to wonder "What can I cook on a griddle?" again!
How to cook on a griddle
Preparing food on a griddle is a great way to cook up so many different meats, vegetables, and even seafood. It's famous for pancakes, and it's great for eggs and bacon in the morning, or you can use it for juicy burgers and sumptuous sausages.
We love griddling on a double burner griddle that's made from cast iron. Pans like a double burner griddle allow you to griddle on stove tops, and as they are double-sided, they can even allow you to start grilling on a griddle. There are many more options, but regardless of what you're griddling and what sort of pan you're griddling on, there are some key rules to follow when you're preparing your food!
Preseason: all griddle pans need to be preseasoned before you start griddling your food on them. Preseasoning means adding a thin layer of oil to the pan and gently heating it up. This helps to create a non-stick surface that won't cause your food to burn or stick to the griddle. Seasoning is important in the long run too, as it helps protect your griddle from rust.
Start cooking: All it takes to start cooking on a griddle is for you to slap down your meat or vegetables once the pan is hot enough. Food doesn't take long a griddle, and you just need to flip things over once or twice, so everything cooks all the way through!
Clean your griddle: Right after cooking, you need to clean your griddle. Scrape off any burnt food or black residue, wash it under hot water, and dry it off with a towel.
Season your griddle pan: After cleaning, you need to season your griddle again to keep it in top shape for the next time you're cooking. Take a little oil, cover the bottom of the griddle, and heat it up. This helps to protect the griddle against rust when it's not in use.
Foods to cook on a griddle
So many delicious foods can be cooked on griddles. You can make breakfast, lunch, and dinner on a griddle - if you wanted to!
Red meats are perfect for griddling, as are most vegetables like bell peper or grilled onions. Anything you'd put on a BBQ, you can griddle. Here are just a few of our favorite foods to start cooking on your pan!
Pancakes: Start the day with some delicious pancakes. Mix up your pancake batter, then start up the pancake griddle. You can even set purpose-built pancake molds if you're worried about the batter going everywhere.
Eggs: Hot griddles are absolutely perfect for cooking eggs. Simply crack your eggs onto the pan and watch them fry in the oil. You can mix up an omelet too, on griddles, but scrambled eggs don't work so well.
Hash browns: Why not make a few hash browns to go with your fried eggs at breakfast time?
Sausages: While we're at it, any other breakfast goes well on griddles too! Sausages, tomatoes, mushrooms, take your pick!
Grilled Cheeses: If you're only after a quick lunch or a light snack, then you can use griddles for cooking the perfect grilled cheese. Slap some cheese between the bread, and let it melt on the griddle.
Burgers: Okay, so griddles are the ultimate burger cooking machines! We love cooking burgers on griddles, and you'll soon see why when you're biting into a juicy, juicy burger.
Cooking on a griddle - FAQ
Can you cook steak on a griddle?
Yes! You can prepare the ultimate steak using a griddle. And they can be just as juicy and sumptuous as if you were frying them in a pan or on a BBQ. It only takes a few minutes to cook it. Let it sit for a bit before enjoying to make sure it's grilled to perfection. Here is an amazing recipe for you to try when cooking steaks on a griddle.
Can you cook chicken on a griddle?
Yes, you can. Chicken is perfect for cooking on a griddle. You need to make sure that you've cooked the chicken all the way through, and there aren't any pink bits in the middle.
To do this, you're best cooking chicken at a lower temperature if possible, than if you were searing meat or vegetables.
We recommend wrapping chicken legs or thighs in tinfoil; that way you can prepare them with a delicious marinade to get that delicious BBQ flavor in your kitchen.
Cooking fish on a griddle
You might be wondering, what can you not cook in cast iron? There are plenty of things you don't want near a cast iron griddle pan. Spaghetti, creamy dishes, or anything that needs a sauce is essentially un-cookable on a griddle pan. You might have heard that fish should be avoided too.
While it's never recommended to fry fish in a cast-iron skillet (it just makes the pan really smelly!), preparing fish on a griddle pan is a different story altogether. In fact, we'd actually recommend it. Your griddle can fix up some cracking seafood!
Because the griddle helps to bake, rather than fry the fish, it actually works really well. If you want to add in some flavor, you can marinade your fish of choice in lemon juice, or add a few herbs or spices, then wrap it up in tin foil.
Leave your little fishy parcel of tin foil on the griddle pan and let it bake at high heat in the juices and spices. It's the same way you'd cook fish over a BBQ.
Our chefs always recommend preparing salmon or shrimp using a griddle. The salmon you will want to wrap up in tin foil with some lemon juice. The shrimp, you can brown right on the griddle pan itself, or you can marinade them in a garlic butter sauce for an extra kick.
Is it healthy to prepare food on a griddle?
Preparing food on a griddle is surprisingly healthy. While you might see griddle-cooking as being in a similar category to frying, it's really quite different. To get a griddle cooking well, you don't need much oil, and therefore there's very little grease.
Choosing healthier oils, such as olive oil or avocado oil, can help lower the number of saturated fats entering your food when you griddle too. Rather than frying the food, a griddle will actually bake the food on the surface of the pan using the oils, which really isn't so unhealthy!
Of course, it all depends on what you're actually cooking too, but what is a griddle used for if it isn't used to serve up some delicious stacked pancakes or an over the top, triple-layered burger every now and then?
Cooking on the griddle: The final word
What to cook on a griddle? There are so many fantastic things to cook on a griddle. There are a range of different ways that you can grill your food and all kinds of delicious news recipes you can try. And it's healthier than you might think! From burgers and sausages to pancakes and cheese sandwiches. Be sure to bookmark this article for future griddle-cooking inspiration!
Get our best Cast Iron Hibachi Grill on Amazon.
2 Responses
Leave a comment
Comments will be approved before showing up.
---
Also in Tips