Wok Cooking Tips For Home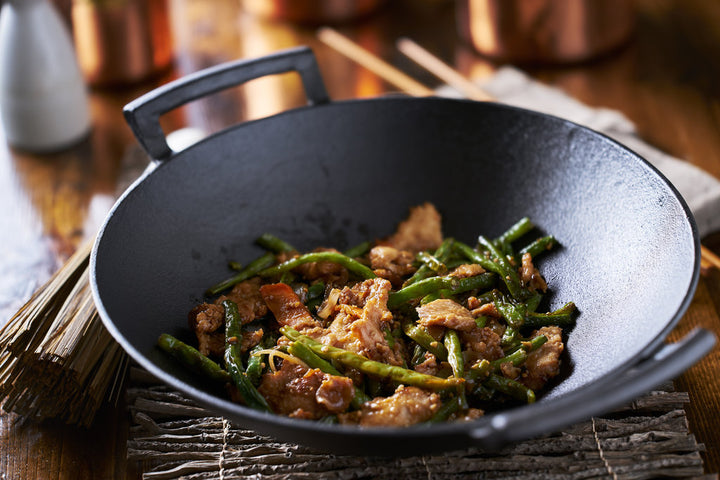 Adding a solid wok to your kitchen cookware will give you a dependable, versatile piece of equipment that can add so many different dimensions to your cooking!
Stir fry it, steam it, deep-fry it, or even smoke it. The cooking options that come with a wok are absolutely fantastic. You can cook up your favorite chow mein, deep-fry a few dumplings, or even braise a whole side of beef if your wok is big enough!
Our chefs can't get enough of their woks, so we asked them for their top tips for cooking with a wok in your kitchen!
What is a wok?
A wok is a round-bottomed cooking utensil (like a pot or pan), that originated in China. The liquids will concentrate at the very centre of the bottom of the pot and the heat is distributed more evenly than in a pan, which makes for a quicker cooking time. They also have very sloped sides. They're great for cooking stir-fries, but also for a host of other recipes.
Choose your wok carefully!
A chef is only ever as good as their cooking tools, so it's essential that you choose your wok carefully from the start!
Everything from the size of the wok to the material it's produced from will affect the way your final dish tastes when you're serving it up to family and friends.
Some things you'll already know. If you're serving up tasty stir-frys to lots of people, you need a bigger wok. A smaller wok pan will be much more convenient than a restaurant-sized wok if you're only cooking for yourself.
The material you choose is important too. In our opinion, the cast iron wok made of cast iron is the best. Cast iron is durable, fantastically long-lasting, and most importantly, for the food, it can fry everything evenly.
How to use a wok
Woks are very particular. You need to do certain things to it before you can start cooking with it. It will need seasoning unless it comes already seasoned. Once that's done, it needs to be heated up properly and cleaned as soon as it's not being used.
Woks need a good seasoning
A good cook must be able to season a wok. Seasoning is doubly important if you're using a cast iron wok, as to stay in top shape, they need to be regularly seasoned (even if they come pre-seasoned).
Seasoning a wok is the same as seasoning any other piece of cookware. The idea is to create a natural layer of protection that produces a nonstick surface and stops your nice wok from getting all rusty.
How to season a wok
What you need for wok seasoning:
Vegetable oil
Your wok
Preheated oven
Instructions:
Take your wok, give it a good coating of oil (the best oil to use is vegetable oil)

Place it in a preheated oven for around an hour.

Let it cool, and then you're ready to go.
You don't need to season the wok every time you use it, because natural layers of seasoning will continue to be added every time you cook with oil.
You need to re-season the wok if you haven't cooked with it for a long time, if food starts to burn, or if the wok loses its nonstick surface.
How to cook with a wok
Turn up the heat
When you're learning how to use a wok, don't be afraid to turn up the heat. A cooking wok NEEDS to be hot, especially if you're stir-frying. Woks are designed to cook quickly at a high temperature.
To reach those high temperatures when you're cooking, you should use an oil with a high smoking point. Before you add the oil to the wok, though, you need to preheat the wok to its high cooking temperature.
Keep the wok preheating for at least 5 minutes, then add a splash of water. If it steams, you're good to go. When it's hot enough, add the oil, but make sure the oil is cold.
Make sure you've got a hot wok and cold oil. Then you can add your ingredients!
Fresh ingredients, fresh flavor
The best stir fry is a fresh stir fry, and because woks are designed to heat at a high temperature, the fresher your ingredients are, the more flavor there's going to be.
Keep away from the frozen vegetables, and always opt for freshly made noodles if you can. Searing your meat and vegetables on high heat, for a short period (often just a few minutes), keeps in a fantastic amount of flavor that would otherwise be lost.
Don't crowd the wok
But no matter how big and well seasoned your wok is, it's important that you don't crowd it. We know, we know, it's easy to get carried away when you're preparing your favorite beef in black bean sauce recipe to make at home, but hold back on the ingredients.
Woks cook best when there is an even surface area to cook on, and that means you want everything to have an even chance of cooking.
The temperature needs to stay hot, and if there's too much beef being fried on the bottom, you're not going to give everything else in your stir fry the even cook it deserves.
Yes, you can cook with wok and lid
A wok with a fitted lid can add yet another dimension to your home cooking. While woks are traditionally used for searing and frying, their depth and breadth also make them incredibly versatile.
We suggest using sturdy cast iron woks for more than just frying. With the added addition of a sturdy lid, you can use the wok in the oven to cook everything from casseroles to stews, while you could also leave a curry or a sauce simmering on the stovetop.
Woks aren't just for a stir fry
With that top tip in mind, always remember that a good wok doesn't just need to be used for a stir fry. Yes, a stir fry is utterly delicious and easy to whip up with only a few ingredients, but we highly recommend getting creative now and then too!
Wok cooking recipes
You can cook all kinds of things in a wok. Here are some amazing recipes for you to try at home.
We love using our woks for steaming, braising, deep-frying, and even smoking.
Fill your wok with frying oil, heat it up and you can start deep-frying potatoes, mastering the culinary art of tempura, or creating battered (admittedly unhealthy) treats.
If you love dumplings, then you can invest in a steaming basket to create a Dim Sum experience in your own home. You can roast a leg of lamb in a wok, you can braise a side of beef, and much, much more!
Our top tip when it comes to cooking with a wok? Don't hold yourself back. Let the creative, culinary juices flow, and see what you can come up with. You'll be wonderfully surprised at just how useful a wok is, and you'll be left wondering what you ever did without one!
How to clean a wok
Our final wok tip is quite simple. Don't forget to clean your wok!
And we don't just mean giving it a quick rinse under the tap, although that's probably better than nothing. First of all, keep your wok properly seasoned (like we explained earlier on in the article), but secondly, make sure you scour off any excess black residue, burnt food or grease build-ups that can accumulate over time.
Keeping a clean wok is one of the easiest ways to start cooking up tastier food! Here are some tips about how to clean your wok.
The final word on woks
There we have it, our top wok tips and tricks from master chefs. No kitchen is ever complete without a wok, and you'll be surprised at how creative you can get with this simple piece of cooking equipment!
Leave a comment
Comments will be approved before showing up.
---
Also in Tips