Taco Fillings: 4 Different Ways to Dress Your Tacos Just Right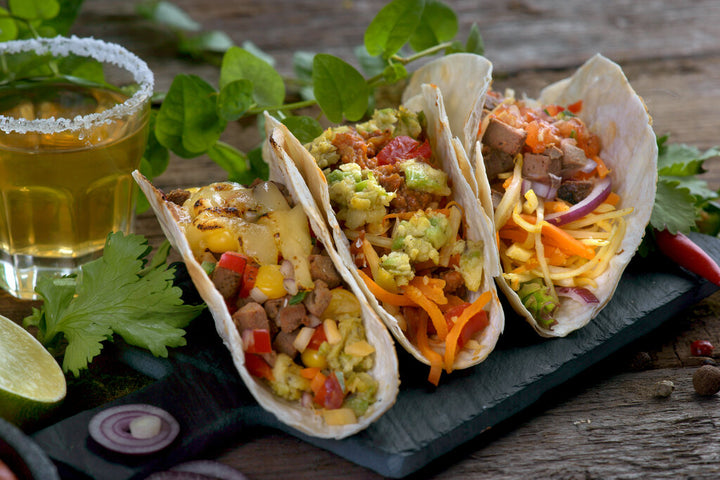 Tacos can be as healthy or indulgent as you make them - no matter what you stuff inside those shells, they're pretty delicious. Here are our four favorite taco-filling ideas to dress a taco that's anything but classic.
#1: Shrimp tacos with creamy cabbage slaw
This recipe for shrimp tacos is a spicy, lightened-up take on traditional fish taco fillings without the breading. 
Different taco meats pair well with varying condiments for tacos - the cajun spices on the shrimp pair well with lighter toppings like shredded cabbage and fresh-squeezed lime juice. Add some avocado slices, chopped fresh cilantro, and Greek yogurt to get the party started with our best taco fillings! 
Ingredients
1 lb large shrimp, peeled

6-8 flour or corn tortillas

2 c of shredded cabbage

1 c nonfat plain Greek yogurt

1/4 c fresh cilantro

1/2 small jalapeño

1 large lime (zest and juice)

1 garlic clove

3 Tbsp extra-virgin olive oil

1 tsp chili powder

1 tsp ground chipotle chili

1 tsp ground cumin

Salt
Directions
Rinse the shrimp and pat dry. Drizzle the shrimp with a bit of oil and sprinkle with spices. Toss everything gently to coat shrimp evenly. Set aside.

Shred your cabbage, then add Greek yogurt, olive oil, cilantro, garlic, jalapeño, lime zest, and lime juice into a food processor. 

Blend the mixture and add salt. Mix half of your sauce with the slaw and keep the rest for your tacos. 

Heat a cast-iron skillet over medium-high heat, and add some olive oil. 

Add the shrimp and cook it until it's no longer translucent ~ 4 min. Once done, transfer the cooked spicy shrimp to a plate. 

Before serving, warm your flour tortillas in the oven, heated to 250°F. 

Fill tortillas with slaw, shrimp, extra sauce, and lime juice, if desired. 

Serve your shrimp tacos and enjoy!
#2: Breakfast egg tacos with bacon and crispy fried potatoes
Why start the day with a bowl of cereal when you can have these tacos stuffed with scrambled eggs, bacon, and cheese? 
Eggs blend surprisingly well with classic Mexican taco fillings in this breakfast tacos recipe, so try adding some shredded cheese, sliced tomatoes, cilantro, salsa, or pico de gallo. If you're a ketchup and eggs person, you'll probably enjoy a drizzle on your breakfast taco toppings, too. 
Ingredients
6 eggs

6 slices of bacon

6 flour tortillas

3 Tbsp of olive oil

2 Tbsp of milk

1 lb potatoes, diced

½ tsp paprika

¼ tsp salt

¼ tsp black pepper
Toppings for the breakfast tacos
Shredded cheese- cheddar or Monterey Jack

Finely sliced tomatoes

Finely chopped cilantro

Salsa or pico de gallo
Directions
Place your heavy skillet over medium heat and add olive oil.

Fry the cubed potatoes for 8 mins and season with salt and paprika. Turn your potatoes over a few times for even cooking.

Once the potatoes are crispy, remove and set aside.

Add your bacon into the skillet and cook for 6 min.

Remove the bacon from the skillet, and lay it out on a plate with paper towels to absorb the grease. 

Cut the bacon into quarters or thirds. Set aside.

Break your eggs into a small mixing bowl and add salt and pepper to taste.

Beat the eggs until the mixture is frothy. Fry the scrambled eggs in the skillet.

Once the eggs are finished cooking, take them out of the pan.

Layer your tortillas with potatoes, bacon, and scrambled eggs before adding the toppings of your choice.
#3: Crumbled tofu tacos with salsa and black beans
One of our more creative taco ideas is great for making vegan or vegetarian taco fillings - in place of traditional taco meat like ground beef, we made these vegan tacos with crumbled tofu. 
Though these tofu tacos sound a little out-of-the-box, they taste surprisingly delicious with many classic taco fixings, which also happen to be naturally vegan taco fillings. Our favorite pairings for this vegan taco? Fresh salsa, sliced tomatoes, pico de gallo, onion, and cilantro.
Ingredients
1 block (12 oz) extra firm tofu

2 Tbsp neutral oil

1 Tbsp soy sauce

1 tsp chili powder

1 tsp chipotle chili powder

1/2 tsp garlic powder

1/2 tsp onion powder

Taco shells or tortillas

1 can black beans, drained

2 Tbsp nutritional yeast 

1 cup salsa

Sliced veggies of your choice to top
Directions
In a large-sized mixing bowl, combine oil, soy sauce, and spices to form a watery paste. 

Crumble your tofu by hand into small pieces. 

Add the crumbled tofu pieces into the bowl with the seasoning paste. Combine them well, making sure that all the tofu pieces coat evenly.

Lay your tofu pieces on a parchment-lined baking sheet.

Stirring occasionally, bake at 355°F for 25-35 min.

Finish the tofu with a light sprinkle of nutritional yeast.

Heat your salsa in a saucepan until it's hot throughout. If desired, add your black beans for the final minute or two of cooking.

Mix your tofu with your salsa mixture. Salt and pepper to taste.

Fill your tortillas with the tofu mixture. Add veggies, serve, and enjoy!
#4: Steak tacos with chimichurri
Looking for things to put on tacos instead of ground beef for the zillionth time? We love taco recipes with marinated steak, like this one. Strong beef flavors pair well with other strong-tasting, healthy taco fillings like herbal chimichurri, red onion, and guacamole. 
Ingredients
Marinade
1 jalapeño

1 handful cilantro

5 garlic cloves

The juice of two limes

The juice of one orange

½ c olive oil

2 Tbsp vinegar

2 Tbsp Worcestershire

1 Tbsp brown sugar

1 Tbsp cumin

1 Tbsp salt

1 tsp pepper
Taco Ingredients
2-3 lbs flank steak 

10-12 tortillas

2-3 c cotija cheese, shredded

1 red onion
Directions
Blend all the marinade ingredients in a food processor until you have a mixture with a smooth and even consistency. 

Place your steaks in a large bowl and pour over the marinade, ensuring you have even coverage. 

Cover and place your marinated steak into the fridge for 4-8 hrs. 

Once the meat finishes marinating, place an oven-safe skillet on your stovetop and heat it until it's almost smoking.

Carefully place each steak on the skillet. Cook the steak for 1-2 mins, until it develops a nice sear, then flip and continue cooking for 2 mins to sear both sides evenly.

Once seared, transfer the skillet to a 350°F preheated oven for ~ 5 mins for medium-rare and ~ 6-7 mins for medium. 

When your steak is done, take it out of the skillet, cover it in foil, and set aside for 5 mins. This ensures all the juices fully reabsorb into the meat. 

Now it's time to build your steak tacos. Slice the grilled steak into thin strips, cutting against the grain for maximum tenderness.

Lay your tortillas out and layer each one with steak and chimichurri.

Top the tacos with a sprinkling of shredded cotija cheese, red onion, and cilantro. 
Final notes & serving tips
You can't go wrong with tossing any of these four tacos recipes using vastly different proteins and toppings into a hard or soft taco shell.
No matter which you choose on our taco fillings list, grab yourself a
taco holder
or two to make dressing and eating your new favorite tacos a breeze!
Leave a comment
Comments will be approved before showing up.
---
Also in Recipes